Sapphire gemstone rings are truly versatile, you could wear a gorgeous sapphire and diamond ring to mark an engagement or wedding or celebrate your September with the gemstone. Sapphires have been known for centuries and this is reflected, in the importance given to the gemstone. The 5th, 45th and 70th wedding anniversaries are best celebrated with a sapphire gemstone ring. Having said all that, the gemstone is also suited for daily wear and is loved by both men and women. Unknown to humans for very long, sapphires are naturally formed in a host of colors and not just blue. You could order a Kai Silver gold or silver sapphire gemstone ring, with an orange, pink, green, blue or yellow sapphire gemstone. Sapphires are beautiful, rare, durable and expensive. The price of larger sapphire pieces rises exponentially, so you might want to stay in the 2 carat to under 4 carat size ring - these would be reasonably priced but definitely not cheap. All sapphires used in Kaisilver rings, are procured directly from mine operators - the pieces are meticulously checked before being picked. Each stone is custom cut in our in-house gemstone section.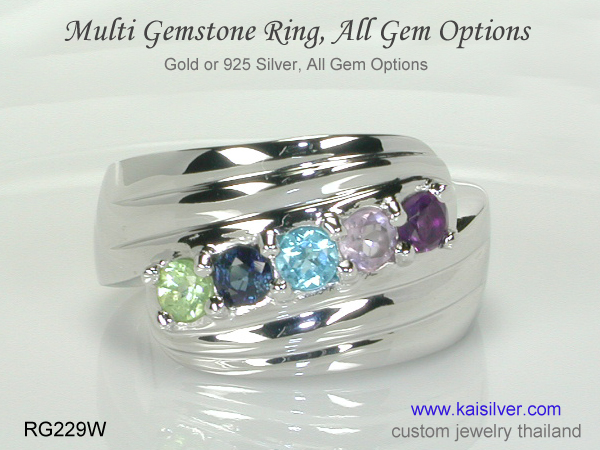 Shown as a multi gemstone ring, the RG229W ring is shown with a blue sapphire gem. A great choice for those who love the color splash of gemstones. The ring can be ordered as a sapphire ring with all sapphires - can combine gems of your choice in the ring ... more.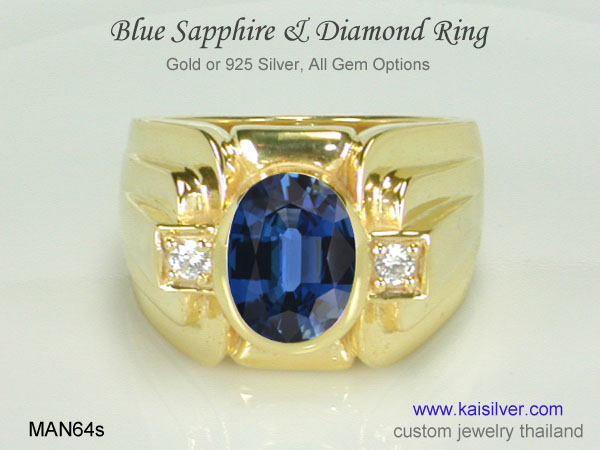 Order this robust sapphire gemstone ring for men, with a yellow, green, pink or blue sapphire gemstone. Handcrafted as a gold or 925 sapphire ring, the jewel has a natural certified sapphire gemstone. We can also craft a ring with your own design and your choice of gemstone ... more.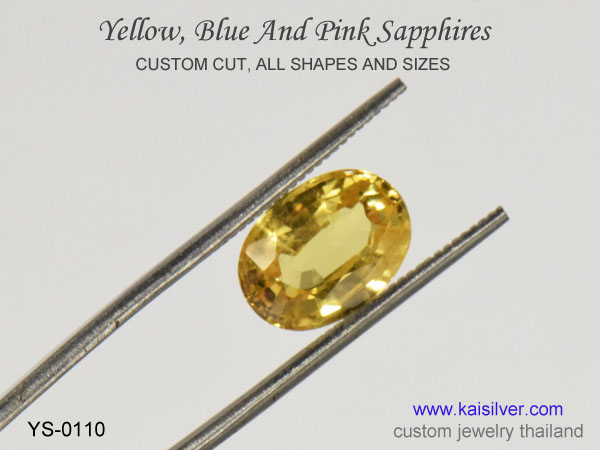 You could order your sapphire gemstone ring with a blue, green, yellow or pink sapphire. For multi gemstone sapphire rings like RG224, RG220 and even RG229W - consider mixing different color sapphires in the same ring. We can also craft a ring for you with your own design sketch.
How To Buy: Each item shown on this web page has a link to the complete report. The report provides more information on the sapphire ring related to pricing, gem options and other details. The buying procedure will be clearly mentioned on the report. We can also craft a gold or 925 silver sapphire ring with a design concept provided by you. Options exist for yellow, pink, green, orange and blue sapphire. Silver and gold sapphire gemstone rings have the same superior quality standards. Kaisilver experts at sales@kaisilver.com will be glad to help you, with any questions or requirements that you might have.
Who Is Kaisilver: The leading online high end custom made jeweler from Thailand with, over 12,000 satisfied clients across 15 nations. All types of jewelry handcrafted in gold or sterling silver, your design or ours. Networked to leading gem mining and cutting operations all over the globe, gives us preferential access to over 200 million carats of gemstones. This ensures that you need not restrict your gem choice to what is shown on our websites. It also means that, you always get the best gemstone at each price point. Contact the support team at sales@kaisilver.com with any questions that you might have. We will be glad to help even if, you plan to make no purchase from us.