Gold Or Silver Aquamarine Ring, Made To Order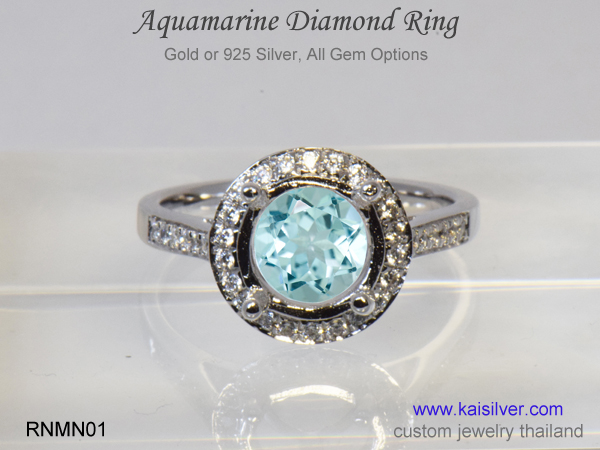 For those of you who love blue gemstone rings, you have a range of natural blue gems to choose from. This is especially true if you choose Kaisilver to custom make your 925 silver or gold ring for you. The RNMN01 made to order aquamarine ring is adorned with a 7mm round aquamarine gem in the center, finely crafted rounded prongs elegantly but firmly clutch the gem. It is interesting to note that aquamarine (blue), emerald (green) and morganite (pink) belong to the same mineral family - beryl. Aquamarine is the gem of tranquility and harmony, the pastel blue shade of this gem makes a refined style statement without screaming out. The round gemstone in the center is haloed with a row of glittering diamonds, part of that glitter spills over to the sides of the band. This ring is not about brute size of being chunky and funky, it is a jewel that will be admired by true style lovers. At the same time, do not expect the jewel to bend and twist at the slightest impact. The internal portions of the ring are left solid, we did this even after knowing that this sturdy configuration would require significant gold or 925 silver weight. A custom ring needs to look good, it also needs to have a construction that can withstand frequent wear.
Kaisilver Aquamarine Ring Highlights:
The design for a made to order aquamarine ring can be yours or ours.
Available in gold or sterling silver, with all ring size options.
You can also request for the gemstone of your choice, not just aquamarine.
Gold and silver aquamarine rings have good weight and workmanship.
You can choose white, yellow or rose gold in 18k or 14k for the gold ring.
Silver rings can be plated, we recommend no plating for 925 silver jewelry.
The gem quality remains the same for silver and gold aquamarine rings.
Gem authentication certificates for gems are available on request.
Gold Or Silver: Jewelry buyers are generally given to believe that, silver jewelry cannot be designed and made with good artisanship and gemstones. We do not indulge in these cheap gimmicks, you can order a gold or silver ring with aquamarine or any other gem. You will not need to compromise on design quality, gemstones or workmanship no matter which metal you choose. The RNMN01 aquamarine gold ring is available in 14k or 18k gold, you have a choice of all three gold colors. We can even accommodate requests for 10k gold rings so, discuss your ideas with our experts. Jewelers prefer to plate a silver ring with rhodium, yellow gold or rose gold at times, even with platinum. While a plating done on silver does instantly give the ring an extravagant look, the truth is that any plating on silver will wear off after some time. A worn of plating on your 925 silver aquamarine ring, will dull the looks of the jewel. It is for this reason that we recommend no plating on silver jewelry. However if you still wish to have the RNMN01 aquamarine ring in silver plated, you can pick white, rhodium, pink gold or yellow gold as the plating choice.
More Details And Buying: We do not believe in rushing you to make a purchase, that is really not the way how fine jewelry should be translated. You can review the full details for the RNMN01 in the Kaisilver RNMN01 Ring Report, you will have clear information related to features, options and prices. The production time, shipping process and the payment options are all explained in the report. Our team of experts at sales@kaisilver.com is always available to answer your queries.