Rutilated Quartz Rings
Talking about a quartz ring might not be such a captivating story but, a rutilated quartz ring surely has a lot to write about. Quartz as a single mineral has a significant presence on our planet. But some varieties of quartz gems have specific properties that make them attractive to the world of gems and jewelry. Examples that we are all aware of are, amethyst, citrine, smoky quartz and even rose quartz. Rutilated quartz is a very interesting gemstone, not just in the quartz mineral family. This gemstone is valued for it's inclusions, something that is quite strange because gem experts normally reduce marks when inclusions are found in a gem. The demand for rutilated quartz rings is high among gem lovers and enthusiasts who understand the true, value and rarity of the gemstone. This gemstone at first glance can look like a clear piece of white (colorless) quartz, that somehow got invoved with a bunch of dry grass or hay!

If you observe a rutilated quartz gemstone ring, you will notice fine brown, golden yellow or blackish streaks in the gem. It is not certain whether inclusions of organic material like grass or hay, would add to the value of the quartz, but these inclusions are certainly interesting. The streaks or fibres in the gemstone consist of another mineral, rutile. This is the reason why, the gemstone is called rutilated quartz. This background knowledge is extremely essential to understand the rarity and true worth of rutilated quartz gems. The next time you see this gemstone, you are bound to give it that second look and admire the marvels of nature. An interesting thing about these inclusions is that, they are so fine that existence on their own would be virtually impossible. Like many other gems, quartz takes a long time to form - this could be as long as a few thousand years. It is very likely that the rutile fibres were already formed as they fell into the quartz that was still not fully solidified. The quartz engulfed the rutile streaks and the remained safe in the quartz.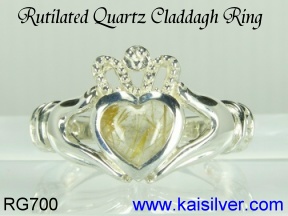 The RG700 is an awesome design concept, to host the rutilated quartz gemstone. The gemstone and the claddagh ring are two awesome creations, the gem created by the wonders of nature and the claddagh ring a creation that symbolizes love and sacrifice. The image clearly shows the hay like streaks in the stone, these are very fine inclusions of rutile. Notice that the inclusions are strewn around in a random fashion. The density of inclusions, their orientation and the color are three factors that ensure that, no two rutilated quartz gems are ever identical. The story of the claddagh ring dates back to almost four centuries. An Irish slave is credited with making the first claddagh ring for his beloved. The ring was made by him during the tenure of his slavery, it was his sheer love and devotion for his beloved that gave him the strength to bear the harsh conditions of slavery. With Kaisilver being respected as the best source for this historic jewel, wearing the ring with a gemstone that is as rare and unique as the rutilated quartz is a thrilling experience. You can choose gold or 925 silver for your claddagh rutilated quartz ring and rest assured, that both metal options get the same quality of craftsmanship and gemstone. You can read more about rutilated quartz and the RG700 claddagh ring here.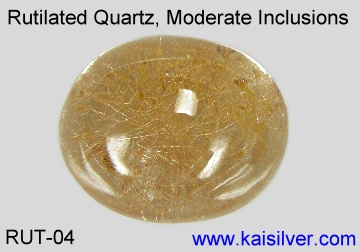 The oval rutilated quartz gemstone shown in RUT-04 is an interesting stone. The gemstone shows a high density of reddish brown rutilated quartz inclusions. What is more important is that, the orientation of the rutile inclusions in this gemstone are so random that, they clear obstruct the clarity of the gemstone. If you needed a simple mens rutilated quartz gemstone ring, with a fairly large gemstone in the 10x8mm to 12x10mm size range, this gemstone would be very suitable for the ring. With the low level of clarity, the randomized inclusion would look stunning the moment any tiny bit of light shines on the stone. At Kaisilver we custom make all jewels with gems of your choice, we can therefore make a customized rutilated quartz ring for you with your choice of design, gem size and gem shape. Gems like these are interesting to wear, they tell a story that true gem lovers never get tired of hearing. It is technically possible to request for a faceted rutilated quartz gemstone for your ring. But we must say that, the cabachon dome shape top of the gem is the best way to show off the internal inclusions in the gemstone.
We expect to find an increased demand for gems and jewelry that tell a story. Gem and jewelry buyers have today matured beyond beautiful colors and stone names. A jewel that has meaning like the historic claddagh ring, or a gemstone that has some interesting (natural) feature is very desirable. We hope that we have managed to increase your interest in understanding and learning about gemstones. It really does not mean that, you should buy every gemstone or jewel that is backed with a story. Learn more about these wonders, and when your mind and soul seem to connect with some specific creation - work on ways to get that very piece.