Men's Gold And Silver Garnet Rings
Few men would not be impressed with a handsome 925 silver or gold ring set with a deep red garnet, men's garnet rings are one of the best selling jewels at Kaisilver. With the initial belief that all garnets are red, it has become the convention to imply 'red garnets' when garnets are the topic of discussion. As time went by, the study of gemstones became very systematic and was well supported by advances in science. It then became known that the garnet gemstone family boasts of an amazing color range, not just red. Many jewelers might not have worked with or even seen, gems like tsavorite, demantoid, hessonite and spessartite, all of which are varieties of garnets. Kaisilver the leading online custom made jewelry provider with its 'any gemstone in the world' attitude, can craft your men's garnet ring with the garnet of your choice. So the next time you are looking for a men's gemstone ring and believe that you already have, a garnet ring - talk to our team about other exciting gem options for your ring.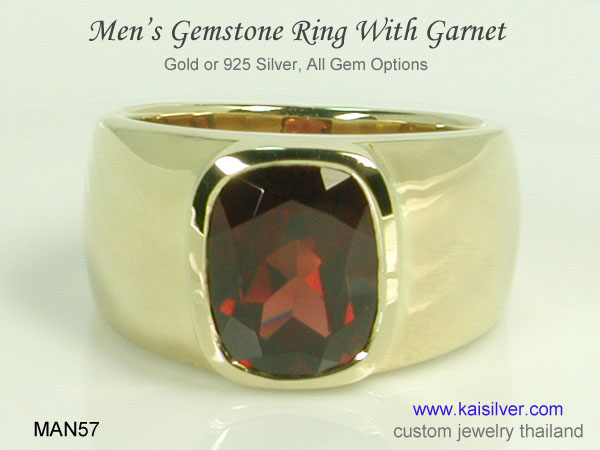 A broad garnet ring with a cushion cut red garnet gemstone. A price quote for the same ring can be worked out with an orange spessartite garnet. The gold and silver garnet rings have the same fine workmanship and gemstone quality ... more.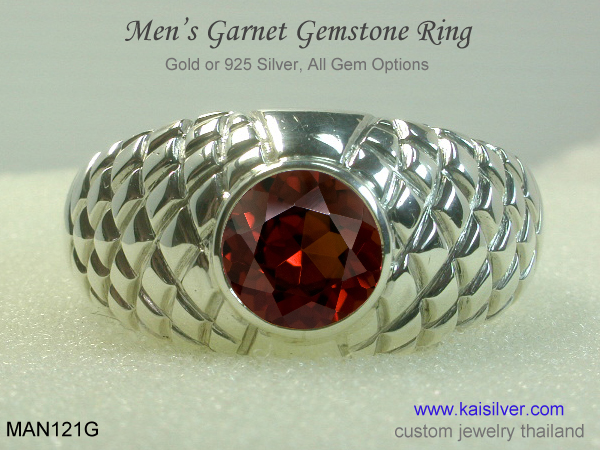 A heavy men's sterling silver red garnet ring, can be ordered in gold with a red or spessartite garnet. A natural gemstone, hefty metal weight and impressive durability. Custom men's ring in all sizes and with all gemstone options from Kaisilver Thailand ... more.
The birthstone charts designate garnet as the birthstone for the first month of the year, January. For years and decades it has been taken to mean that, red and only red garnet is the January birthstone. While the demand for men's garnet rings far exceeds the level of demand that a birthstone can generate, we are of the opinion that all garnet varieties should be included as January birthstones. The price of garnets can vary depending on the variety and also the quality within each variety. Some garnets like demantoid (fiery green) and tsavorite (saturated green) are generally found in sizes below 1.5 carats. So if you were thinking of a gold or 925 silver garnet ring for a man with either a demantoid or tsavorite garnet, you might need to pick a design that does not require a big chunky gemstone. Innovative design can create a jewel that uses more than one modestly sized gem in a men's ring, so you do not need to give up on your dream of wearing a men's garnet gemstone ring with one of these green garnets. What you need to note is that, 3 to 5 carat tsavorite and demantoid garnets do exist but, prices per carat can range from 5,000 U.S$ to 15,000 U.S$ depending on the quality. This is surely not what most of us would be prepared to spend for a gold or sterling silver men's garnet ring.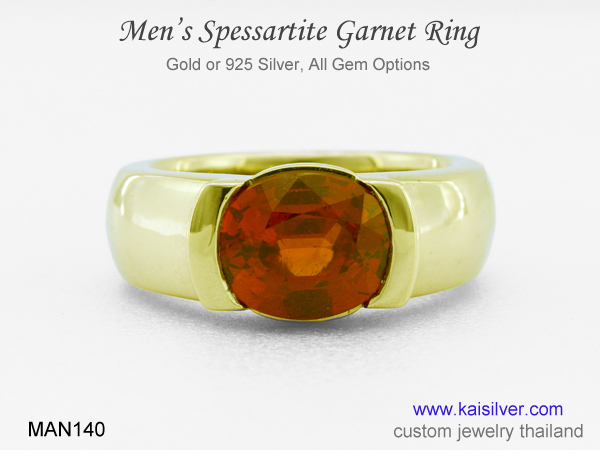 A scintillating combination of yellow gold and orange spessartite garnet. The deep orange color of this African spessartite, looks great in gold or 925 silver. You can choose white, yellow or pink gold. The same ring can also be ordered with red garnet ... more.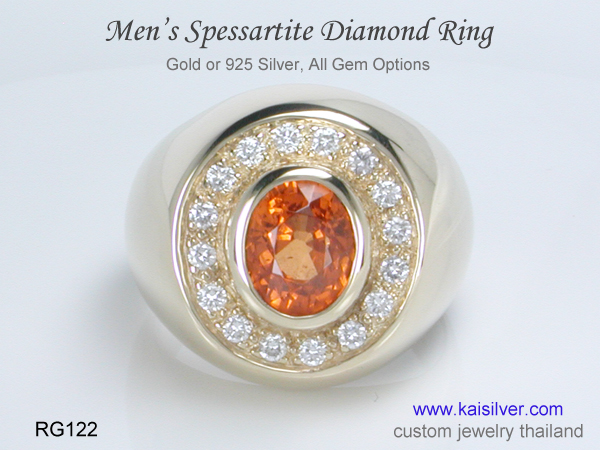 A men's garnet ring that makes a luxury statement, a bright orange spessartite garnet gemstone, set in the center of a halo of glittering diamonds. A special ring for a special man. We can also craft a spessartite ring with your own design concept ... more.
In recent years we have been very surprised with the interest that spessartite garnet has drawn in men's rings. This orange to reddish-orange garnet was first found in Namibia at least in recent times. High end jewelry houses soon fell in love with the stone and the gem behaved no better than a 'spoilt brat', prices started soaring and most budgets would not accommodate spessartite. Nigeria did provide some more of spessartite garnet but it was not until, Tanzania and Madagascar entered the supply circuit that wide interest in the gem got rekindled. Kaisilver works directly with miners to procure the best of the spessartite garnets at each price level. Our men's spessartite garnet rings can be crafted with the design and gem of your choice, we offer the entire range of color shades for this sparkling gem. Seasoned gemologists explain that the natural inclusions and fissures that exist in spessartite are the result of a turbulent genesis. During the millions of years that it takes garnets to form in their natural environment, violent changes in temperature, humidity, pressure and climate are surely expected to occur. These are tough years for the garnet that is in the formation process, they leave their scars on the gem. Luckily there is no treatment that is applied to spessartite to remove its inclusions or close its fissures - Kaisilver spessartite garnet gems are left untreated. When you choose your men's spessartine (same gem) garnet ring, insist on a gem with a slight reddish-orange color saturation. A very dark gem would hide the sparkle and a very light color would make the inclusions appear even more glaring than they really are. Basically you want a spessartite gem that attracts focus on the gorgeous color and sparkle, this works to distract attention from the inclusions and fissures.
With deep red garnet being extremely popular it is no surprise that Kaisilver gets a lot of men's garnet ring orders each year. We maintain the same quality standards for gold and silver rings and also, retain the same gem quality for both metals. Silver as a precious metal for jewelry is not a new trend but recent years, have seen a surge in the demand for quality sterling silver jewelry. Seasoned jewelry buyers recognize the classic look of silver and are willing, to pay more for silver jewelry that is designed and crafted well. Men have always admired the calm and confident look of sterling silver and this, remains unchanged. Kaisilver can custom make a gold or silver men's garnet ring for you, options for 14k and 18k gold in all three colors, white, pink and yellow are provided for the men's gold ring. If you wish to get a 10k men's garnet ring, contact our support team and request for a price quote. And if you wish to go for a men's silver ring with garnet gemstone, we would recommend that it be left un-plated. We can do a white rhodium, yellow gold or rose gold plating on your silver men's ring but, irrespective of what the plating is, where it is done and how it is done, it will start to wear off after a while. In the long run cleaning and polishing an un-plated 925 silver garnet ring will be easier than, working with a silver ring that has a plating that is wearing off.
Kaisilver Men's Garnet Ring Highlights:
Custom made in gold and 925 silver with the same quality workmanship and gemstones.
Gold ring options include 14k and 18k gold in white, yellow or pink gold colors.
Request for a price quote if you wish to have a 10k men's garnet gold ring.
The design for the men's garnet ring can be yours or ours, design modifications are possible.
We provide options for red garnet, hessonite, spessartite, tsavorite and demantoid garnets.
All gems are custom cut, faceted, checkerboard and smooth cabochon cuts are possible.
Both gold and sterling silver garnet rings have good metal weight to ensure durability.
We can accommodate requests for all rings sizes as each men's ring is fully made to order.
Kaisilver: Widely recognized as the global leader in online custom made jewelry, we craft all types of jewelry in gold or sterling silver. Skilled craftsmen and artisans give complete attention to every jewel that is crafted by us, the same quality standards are maintained for gold and 925 sterling silver jewelry. It is very unlikely that any jeweler online or offline can match our expertise and reach in gemstone sourcing. With preferential access to more than 200 million carats of cut and polished gems and direct connections, with gem mining centers across the globe - we are in a position to place absolutely no limitations on your choice for gemstones. Contact our support team at sales@kaisilver.com with any questions that you might have related to gemstones and jewelry. You can review the Kaisilver Men's Garnet Ring Collection, to get an idea of what we can do for you.