Ruby is a precious gemstone that has been known for many thousand years. The gemstone has represented beauty, love and status since ancient times. The rarity of the gemstone has allowed it to consistently maintain a high price point. The fact that the budget for a ruby ring would need to be fairly substantial has, made this jewel a specialty of special occasions like weddings and engagements. Ruby belongs to the corundum mineral family, and it is described as a red or pinkish red corundum gemstone. You might be interested to know that, corundum in any other color besides red or pinkish-red is known as sapphire. When you buy a ruby ring, you will need to consider a few important features. While you need not be a gemstone expert, it is good to know the precise questions that you should ask your jeweler.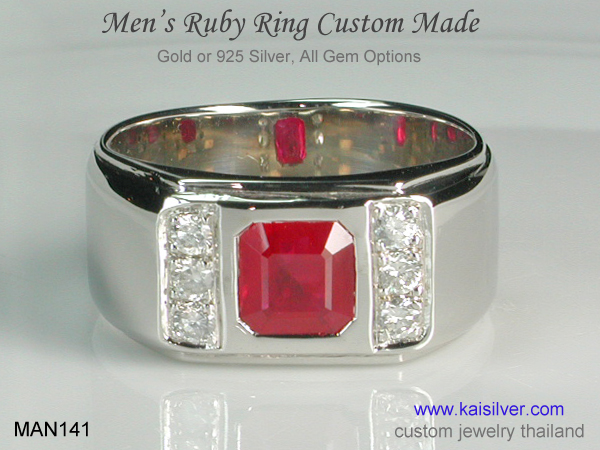 White gold ruby band ring, finely handcrafted by expert artisans in Thailand. This Kaisilver ruby diamond ring can be ordered in 14k 18k gold - white, yellow or pink gold - 925 silver is also an option. Made to order ruby ring in all sizes ... more.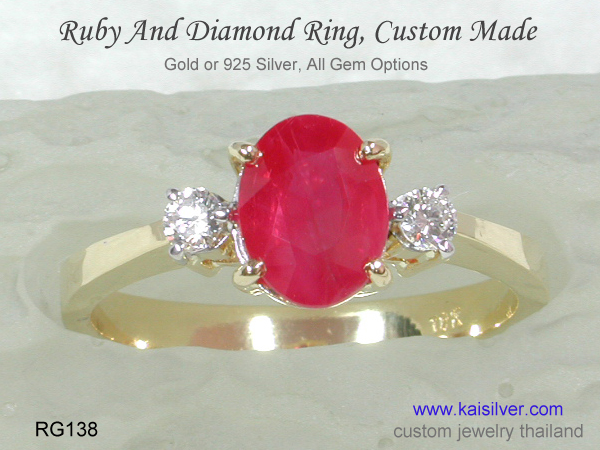 A ruby diamond engagement ring, elegant design and yet built to withstand prolonged and frequent wear. A high end ruby gemstone ring, an extravagant look that makes a luxury statement despite its reasonable price tag - gold or 925 silver ... more.
Ruby rings are known for their beauty, many gem lovers wear them for traditions and customs that have become a part of the gemstone. A ruby birthstone ring would be worn by those of you who were born in the month of July. This gemstone has a prominent presence in the anniversary gemstone charts too. The gemstone symbolizes love and affection, it is therefore very popular in wedding and engagement rings. While you might expect men to stay away from red or pink gemstones, it is the status symbol factor that ruby holds which makes it popular with men too. We have often made a statement that, mens ruby rings would be far more popular if, the price of the gemstone was a bit lower.
This gemstone is hard, and comes second in hardness to only diamond on the Mohs scale. This means that your ruby ring will not call for too much of attention or caring. The price of a ruby gemstone would generally depend on a few factors - the quality of the gem, the type of treatment applied to the gem, the size of the stone and even where it was mined. Keep in mind that we are talking only about ruby rings with natural gemstones, synthetic and imitation ruby gems will not form part of this discussion.
A big ruby ring, heavy ring with impressive durability. The center oval ruby gem is flanked by a glittering diamond on either side. The perfect men's ruby gemstone ring for today's active male. Can also craft your ring based on your design concept ... more.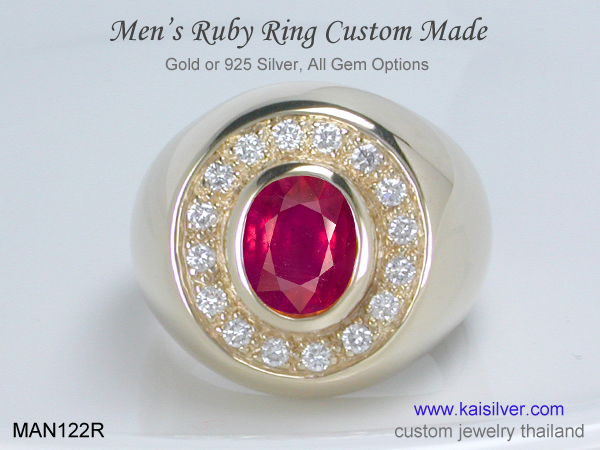 A row of extravagant diamonds surrounds the oval natural and certified ruby gem in the center. Order your Kaisilver ruby gold or sterling silver ring with your choice of gemstone. Handcrafted to perfection, ruby rings can be crafted with your own design ... more.
Ruby Quality: Everyone would want the best ruby for their ring but, what exactly is the definition of a 'best' ruby. When talking about an expensive and rare gemstone like ruby, you will need to evaluate various features, combine them together and keep the gem price within your budget. The color of rubies is always red, though some ruby gems could show a hint of pink, red is always the predominant color. If you heard of 'pigeon blood' red rubies, they refer to a rubies with one of the most expensive color shades. The gem clarity for your ruby ring, will very rarely mean an 'eye clean' clarity. Like most natural gemstones rubies always show some degree of inclusions and 'clouds' in them. It might however not be a good idea to choose a ruby that has too many fissures (internal cracks) as, this could make the gemstone prone to breaking in the future. Surface reaching fissueres for the gemstone in your ruby ring, are something that should be avoided at all costs. You might accept some color zoning for a ruby provided that, it is not very apparent when the gem is viewed from the top. Choosing a reputed gem or jewelery provider should be your prime objective. You need a provider who will keep your requirements and budget in mind, and ensure that you get the best gemstone for what you spend.
Gem Size: The rarer a gemstone the higher the desire to own a huge piece! This is surely true of ruby rings and even more true when it comes to mens ruby gemstone rings. A ruby ring with a gem size of around 5mm to 6mm is what most budgets can handle, this especially if a good quality ruby gemstone is desired. These gems would be in the 0.80 carat to 1.2 carat size range. Move to a 7mm round ruby from a 6mm stone and you will see that, the weight of the stone jumps to around 1.6 carats to 1.8 carats. Rubies like most gems are sold by weight (carat) and the price of some gems, shows an abnormal price rise (per carat) when the gem size moves up. This is a very important factor that you need to keep in mind when, budgeting for a ruby ring. If you had to make a price comparison (per carat) for two gems with the same quality, one a 6mm round and the other a 7mm round, the price per carat of the 7mm gem can be 50% to 80% more as compared to the price for the 6mm gem. But what if, you had a limited budget but really needed a larger ruby size - the simple truth is that, you would need to compromise on certain quality features.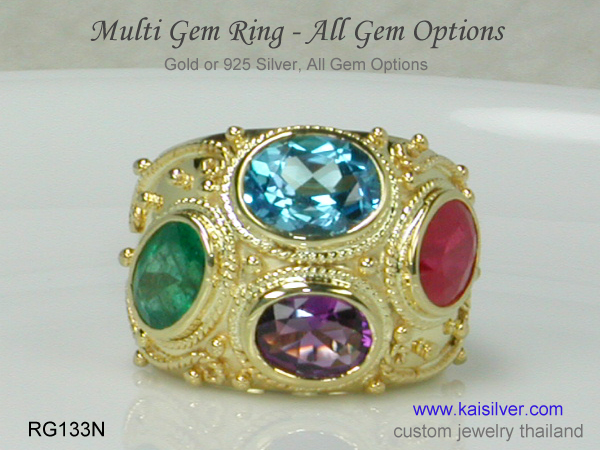 A multi gemstone ring with many gemstones, you choose all the gems for your ring. The ring is shown with ruby, emerald, blue topaz and amethyst. A very organic look for this design, an awesome look for 14k 18k gold or sterling silver - all sizes ... more.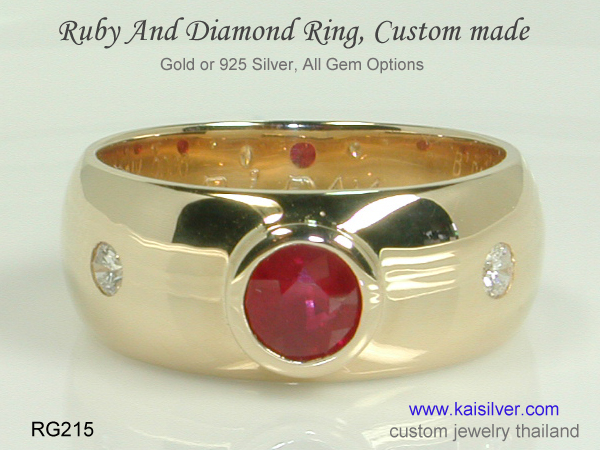 A ruby band suitable for men and women, can be worn for a special occasion or for informal wear. Good metal weight, the band width can be customized based on the ruby gem size. You can also send in your own ring design to be custom made ... more.
Gem Treatment: A few decades ago, you would never have to worry about ruby gemstone treatment. Since ancient times, rubies have been heated to improve their color and clarity. This was a simple heat treatment where, no chemicals or salts were added to the furnace during the heating process. More importantly, this type of conventional heat treatment did not affect the hardness or toughness of the gemstone. The past decade or two, have seen the introduction of various ruby treatments, some of these actually reduce the durabilityof the stone. The Beryllium heating process for rubies is quite rampant even today. The demand for such rubies is quite high because, the treatment does not compromise the toughness of the gemstone. The glass filled or fissure filled rubies as they are called, are really composite stones where glass and ruby exist side by side. The glass is never really fused into the ruby gemstone. The effects of fissure filled rubies are not stable, they often require special handling instructions. The general convention is that, ruby rings which have gems that are treated by a process other than conventional heating, need to be specifically explained to the buyer. If you had to make a price comparison, of rubies that looked similar to the naked eye - the stone that was just heated would cost more than a gem that was treated with beryllium. And finally, a good looking fissure filled ruby should not cost you more than 10-20 U.S$ per carat.
Ruby Origin: When it comes to rubies, the origin of the gemstone can significantly influence the price of the stone. This is sometimes quite sad because, we have seen heavily included Burmese rubies with very inflated sale prices. At this point of time, rubies generally enter the markets from Burma, Thailand (almost mined out) and Mozambique. Some sellers do sell rubies from Australia and even Tanzania but, these are in small quantities. So should you pay a high price for a ruby ring just because, the gemstone comes from a specific place. Without commenting on that, here is some invaluable advice that we will share with you. When choosing the gemstone for your ruby ring, first make sure that the gemstone is natural and not a man made clone. Next, check the color and clarity of the gem, are you satisfied with both. If yes, get confirmation for the type of treatment used for the ruby, conventional heating is ideal and beryllium treatment might be okay too. If both gems looked alike, the beryllium treated ruby should cost less than a conventionally heated ruby.
Metal Option: Gone are the days when gold or even platinum dominated the metal options for expensive gems. The insane rise in gold prices has brought an interesting shift towards fine sterling silver jewelry. Going purely by technical considerations, there is no reason why you could not choose a gold or sterling silver ruby ring. If you are worried about, silver tarnish the good news is that, silver jewelry polishing options are now convenient and easy to use. When it comes to ruby gold rings, the relatively high gem cost component combines with the price of gold and this, can result in a rather high price point. The red color of ruby, would look great in all metal colors so the choice of metal is something that can be safely left to your preference.
The above report will give you important knowledge that, can be used to make a purchase decision. We are not the only source for ruby rings so, do keep other options open. This report is not meant to bring us sales orders, all we wish to do is to educate buyers as this is good for everyone. When you know the precise features that need to be evaluated, you will make a more balanced comparison between different ruby rings, and even similar rings from different providers.
How To Buy: Do not be in a hurry to buy a ruby ring or any other jewel from Kaisilver. Each item shown on this web page has a report, that takes you to all the details including options and pricing. The support team at sales@kaisilver.com will be glad to help with any questions that you might have. We can also craft a gold or 925 silver ring for your with your design concept. All jewelry can be ordered in gold or 925 silver with your choice of gemstones.
Who Is Kaisilver: The leading online provider of finely handcrafted custom jewelry in gold and 925 silver, Kaisilver crafts jewels with your design or ours. We are humbled to serve more than 12,000 seasoned gem and jewelry lovers spread across 15 nations. Networked to large gem mining and cutting operations all over the world. we place no restriction on your choice of gemstones. The same high quality standards are maintained for gold and silver jewelry. Contact us at sales@kaisilver.com with any doubts or queries that you might have - we will be glad to help even if you plan to buy nothing from us.