Gold And 925 Silver Rings For Men With Green Jade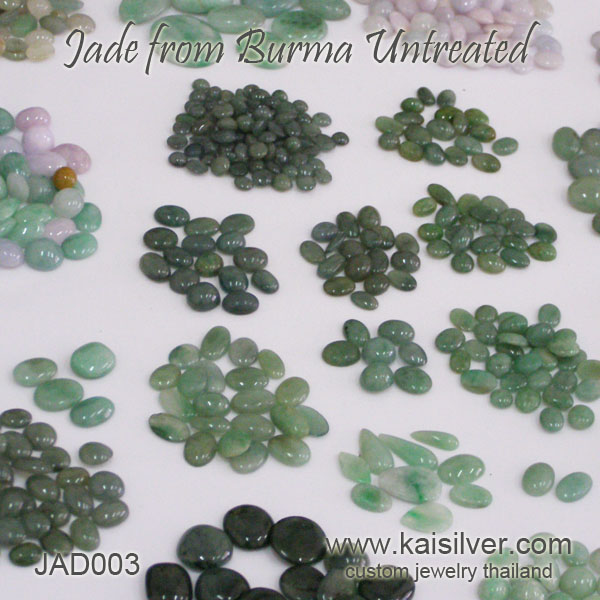 Jade is found in a range of colors and the term jade actually includes two stones, jadeite and nephrite. Men's jade rings are generally preferred with green jade, a color that is the favorite of both men and ladies. When you choose a gold or 925 silver jade gemstone ring, it is necessary to understand the features of the gem and related issues. To begin with, we will restrict our discussion on men's green jade rings to natural jade gems, synthetics and imitations will not be part of the report. Below are the related highlights for the gem in your ring.
Men's Jade Ring Highlights:
Kaisilver rings have natural jade gems in various price ranges.
We can craft your men's ring with based on our design concept or yours.
Moderately priced untreated Burmese jade is available in untreated and dyed (treated) form.
Fine quality Imperial Jade from Burma (1,500-3,000 U.S$ per carat) can be quoted on request.
We make complete disclosure of the treated or untreated status of jade set in your ring.
Quality standards are maintained the same for both, gold and 925 silver men's green jade rings.
Men's 14k and 18k jade gemstone rings can be ordered in yellow, white or pink gold.
Request for a price quote if you prefer to get a 10k jade gemstone gold ring.
Men's silver and gold jade rings are provided with good metal weight.
Jade Gemstones:
Our expert gem sourcing close to the Burmese mines, puts us in the best position to get the best quality and price equation for all grades of green jade. All prices for men's green jade rings are quoted based on moderately priced untreated jadeite jade from Burma. We can also craft your jade gemstone ring with a dyed (treated) Burmese jade gemstone, this is available on specific request. The type of jade (treated or untreated) will be clearly disclosed to you before, you place your order and make payment. Gem testing certification can be provided for each piece of jade, you will be informed of the additional fees (if any) that will added to the cost before placing the order.
While we can comfortably fulfill requests for men's jade gemstone rings with high quality Burmese jadeite also referred to as Imperial Jade, the price tag on this gem is often too high to fit most budgets - expect to pay around 1,500 U.S$ to 3,000 U.S$ per carat. If you are interested in such a green jade gem for your jade men's ring, discuss your requirements with our support experts at sales@kaisilver.com . Such gems will be provided with a certificate of testing and authenticity from GIA or GIT in Thailand.
There is an interesting thing related to jade, while most buyers prefer to wear a jadeite jade ring today it was in fact nephrite jade, that was known to humans for thousands of years. Traditions, customs and folklore was generally related to nephrite jade, this remained true for many thousand years. The Chinese first came into contact with jadeite jade from Burma (Myanmar) just 3-4 centuries ago. At Kaisilver, we procure both nephrite and jadeite jade directly from the mining locations, you can therefore specify which type you would prefer for your men's gold or sterling silver green jade gemstone ring. :
Ring Durability: Our position as the leading online custom jewelry provider, reflects the quality of the merchandise that we provide. When crafting a silver or gold men's jade ring for you, we give equal emphasis to impressive looks, comfortable wear and ensure that the ring can withstand frequent and prolonged wear. In general you will find that, our jewelry has a metal weight that is around 40% to 60% more than what other jewelers would provide for similar design concepts. While this does add to the price tag, good metal weight is at the foundation of every durable and sturdy jewel. Most of our custom made men's rings have a bezel setting for the gem, this is the safest and most secure way to mound a gemstone. You will notice that the bezel gem setting covers the entire rim of the gemstone with metal. The gemstone in your jade ring is custom cut to perfectly fit the expertly crafted ring. We will ensure that the gem is not cut too high, a gem that protrudes too much beyond the ring surface is more likely to hit against hard objects and surfaces. The good news is that, jade by virtue of its internal micro-meshed composition is very durable and tough.
Kaisilver: We are the leading online fine custom made jewelry provider, we can custom make your designs or ours in gold or 925 silver with the gemstones of your choice. Leveraging decades of expertise in gem procurement, we can procure and custom cut any gem from any part of the globe for your made to order jewelry. While we welcome your own design ideas, but you could also choose any of the rings from our men's ring collection, and request for it to be made with green jade in silver or gold. Email us at sales@kaisilver.com with any questions or requirements related to gems and jewelry that you might have.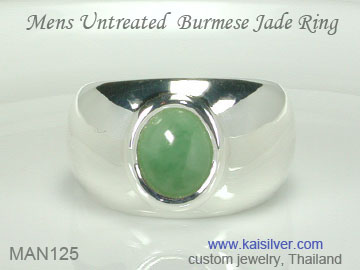 Minimal design but high on impressive style, this simple and sturdy men's green jade ring is set with a moderately priced natural and untreated jadeite jade gem from Burma. Crafted in gold or 925 sterling silver, this ring can also be ordered with a dyed (treated) Burmese (Myanmar) green jadeite gemstone ... more.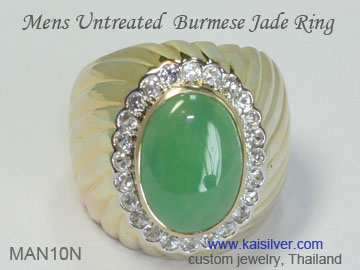 A green jade men's ring with a natural and untreated jadeite gem from Burma. You can order this gold or 925 silver men's ring with or with the surrounding smaller gemstones. The ripple texture on the surface can replaced with your choice or, be left out of the design. A sturdy and long lasting ring ... more.