Men's Rings, Gemstone, Design, Gold Or Silver
Custom rings for men are popular today mainly because, men have become more conscious of the jewelry that they wear. Men's gold or silver rings that are custom made, should have all the preferences of the client. This obviously within the framework of the budget assigned to the jewel. Irrespective of the ring being crafted in gold or 925 silver, a custom ring should be crafted to high quality standards. The choice of metal should have no bearing on the design, craftsmanship or gem selection of the ring. Gemstones have gained popularity with men, there is a general preference for dark blue, green, black and deep red gemstones. A custom men's ring could be ordered with any gemstone, Kaisilver in fact clearly mentions that the gem selected need not be mentioned or shown on our website. The design for a men's ring that is made to order, need not be limited to a fix set of designs offered by the jeweler - we will gladly craft your men's plain or gemstone ring with design specifications provided by you. Keep reading this report as we provide valuable information and suggestions related to gold or sterling silver rings for men. Our support experts at sales@kaisilver.com are always glad to receive any questions that you might have.
Men's Tanzanite Ring Collection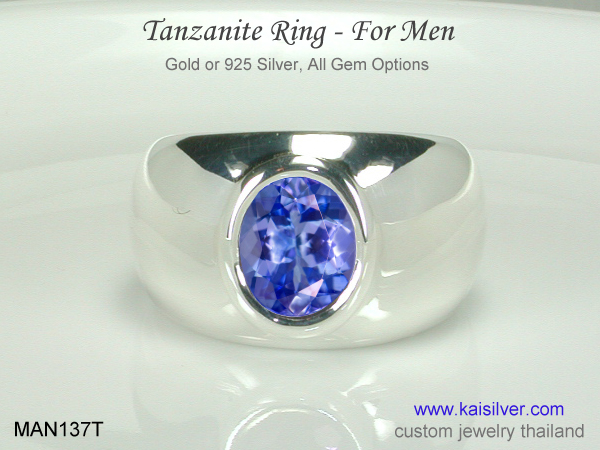 Custom made tanzanite rings for men, one of the rarest gemstones on the planet - 1,000 times rarer than diamond. Crafted in gold or silver with a natural certified tanzanite gem. We could craft a men's tanzanite gem ring with a design provided by you, available in all ring sizes .... more.
Men's Garnet Ring Collection Custom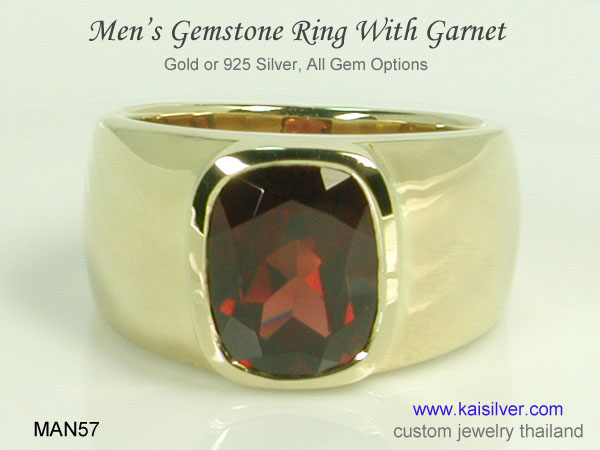 The majestic red garnet or the scintillating orange spessartite garnet, for this awesome men's ring collection with garnet. Gold and silver men's garnet rings are crafted by expert artisans in Thailand. These men's rings give equal emphasis to good looks and durability ... more.
White Gold Rings For Men Custom Made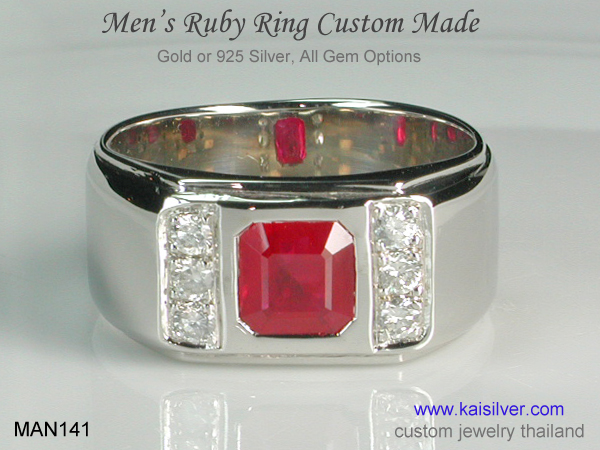 A tremendous collection of 10k, 14k or 18k white gold rings for men, the luxury look with durable construction. White gold rings for men are not just for weddings and engagements, a custom men's ring in white gold would be fine for both formal and casual wear - review the collection ... more.
Jade Rings In Gold Or Sterling Silver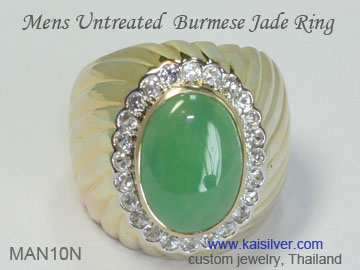 The rare Burmese jadeite in the design of your choice, the same superior standards for both gold and silver men's jade rings. The gem are natural jadeite from the Burmese mines. Jade happens to be a very tough gem, suitable for everyday wear. Custom made in all ring sizes ... more.
Kaisilver Men's Rings Highlights:
Each men's ring is fully handcrafted in gold or 925 silver.
The gold and silver rings have the same superior quality standards.
Custom rings for men can be crafted with your design or ours.
Equal emphasis given to good looks and long term durability.
Gem selection is not restricted to what is shown on our websites.
Metal weight is 40% to 50% more than what other jewelers provide.
Custom men's gold rings can be ordered in 10k, 14k or 18k gold.
You have a choice of white, yellow or pink gold to choose from.
Pick a design from our websites or send us your own design idea.
All ring features can be customized, all ring sizes available.
Gold Or Silver: The choice of metal for a men's ring is a personal choice. Having said that, it is fair to provide some important pieces of information and suggestions here. When you order a ring for men in gold or 925 silver from Kaisilver, you are assured of the same superior standards for both metals. This makes it even easier for you to make a choice. Gold rings can be ordered as sapphire rings for men in 10k, 14k or 18k gold, you can pick white, yellow or pink gold. From our analysis it does seem that, men's white gold rings are more popular for special occasion wear. Examples of these would be white gold wedding and engagement rings for men. There does seem to be a preference for men's yellow gold rings - these are often wore as casual wear jewels. The price of yellow, white and pink gold rings for men, will remain the same within each 'k' value of gold. As an example, a 10k ring would be priced the same in all three gold colors. Sterling silver rings for men are more economical, this because of the affordable price of the metal. Many experts advise that, 925 silver rings for men, be left without any plating on the surface. This is because plated silver rings, will always shore a ware out of th4e plating. Your ring ends up with a patchy look and becomes difficult to clean and polish. Silver rings that are not plated will tarnish but, the cleaning and polishing process would be simple, without the need for any professional help.
Ring Durability: This is an important factor when it comes to men's rings. Men generally do not take much care of the jewelry that they wear. It is therefore necessary for the design of the ring to incorporate features that will add to the long term durability of the jewel. Optimum metal weight, secure mounting for the gemstones and even the quality of workmanship, have a major role to play. The right gem selection can also have a positive impact on durability but, it is not always something that can be controlled. Men's birthstone rings for example, are picked based on the month of birth - this does not leave much choice for the client. Given all the features of a sturdy men''s ring, we must make one very important point here. Jewelry should never be worn in environments where it can be hit by physical impact. Keep your jewelry away from strong solvents and detergents, these substances can affect the gemstones and metal in the ring.
Gem Selection: This is an interesting aspect of every men's gemstone ring. Price logistics of the gemstone, the durability of the gem and surely the price of the gemstone are issues to be considered. Men love their rings to have large gems but, this can get to be extremely expensive in the case of gems like ruby, sapphire, emerald and diamond. This is one reason why the design selection for a men's ring would need to keep the preferred gemstone in mind. In general, a custom made men's ring would ensure that, the ring has the best combination of features.