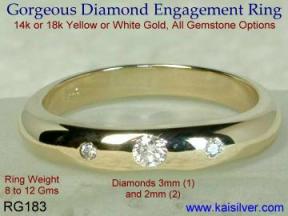 Custom 3 Stone Rings
A ring with 3 stones need not always be a diamond ring. While one more stones in a 3 stone ring could be a diamond, it is not always necessary to have diamonds in such a ring. The concept of a three stone ring can have a deeper meaning which goes beyond beauty and appearance. We will come to that in a minute but, let us first stress the importance of choosing a custom 3 stone ring. You would surely expect your ring to look nice and pretty, interestingly these are relative terms - what might be dull and boring to your taste might impress some one else. A custom ring will allow you to choose the design of your choice, you can even pick an existing design and request for it to be altered to suit your liking. The features of the 3 stones set in the ring also offer significant scope for customization. For example, you might pick blue topaz, citrine and peridot for your 3 stone ring - they might just appeal to your choice of color. Besides the gem type, you might also like to choose your preference for features like gem shape, size and cut. All these can be easily handled in a fully custom made ring with 3 stones. You are obviously aware that gold and 925 silver are the most popular metal options for rings - your metal choice can be based on what you like or what your budget can conveniently handle. If you saw the RG183 three diamond ring in a diamond jewelry store, it is unlikely that they will be interested in making a similar ring in sterling silver with, three equal sized pink tourmaline gems. On the other hand a custom jewelry provider should welcome your specific requirement. Reality however is that, most custom jewelry makers prefer to feast on the higher profit margins of gold jewelry. We at Kaisilver, do not play such gimmicks and will gladly custom make your ring for you with the design, gems and metal of your choice.
So why are we giving such specific interest to 3 stone rings, why the recommendation to get them custom made. The answer is that, most buyers wear or even gift a ring with 3 gemstones for a specific reason, the jewel has some special meaning for them. The interesting thing is that a gold or 925 silver ring with three gemstones can have different meanings for different people. For example, the past, present and future ring could be symbolized by a ring with any 3 gems - you can pick the stones based on color preference, price point or belief in the metaphysical properties of the gems. All you need is 3 gems, the first representing the past that you and someone special experienced, the second signifying the present and the third symbolizing a tomorrow that is better than today. A ring with three gemstones might also be purchased as a family birthstone ring. In this case each of the three stones would represent a birthstone of a family member. Let us say that a father wanted to gift a family birthstone ring to his wife - the ring was to have the birthstone of his wife and two children. The wife born in the month of November, and the children in April and July respectively. This means that the father would need a 3 stone ring with a Citrine (November) and a diamond (April) and a ruby (July). From our decades of experience in jewelry we can confidently say that, it is not very often that you will come across a ring with a citrine, diamond and ruby in a jewelry store. So a custom ring with 3 stones is where you should be putting your mind. Young couples have in recent years popularized the concept of 3 diamond rings, the story is quite interesting. If you plan to get a 1 carat diamond engagement ring, you will find that the price of the jewel is quite high. This is because diamonds begin to cost insanely more as their size increases and one carat, is considered to be a substantial size for this glittering beauty. There is a smarter way to use your budget to get a one carat diamond ring that could be around 40% to 50% cheaper. Choose a ring with 3 diamonds, request for a ring where the 3 diamonds together, have a weight of one carat. The good thing is that, you would not need to compromise on the quality of diamonds. The same logic could be applied to a 2 carat diamond ring too, aim for a total diamond weight of 2 carats in this case. So why go for a 3 stone diamond ring and not a diamond ring with 4 or even 5 diamonds. The reason is both interesting and logical - a 3 diamond ring worn as an engagement or wedding ring could also symbolize the past, present and future concept.
Kaisilver Rings: While we will be glad to custom make your 3 stone ring in gold, 925 silver or platinum, we will also be glad to provide you with guidance and information even if, you plan to buy your jewel from another jeweler. You are welcome to communicate with our experts at sales@kaisilver.com for any questions or requirements that you might have. We can custom make your ring with 3 gems with your choice of design, our 3 Stone Ring Collection will inspire you with some awesome ideas so do give it a look.