Humans have known crystals and gems for a few centuries, these were worn as simple talismans or carried by a person. The first motivation to get closer to gems was related to belief and tradition. As time went by and the art of gem cutting developed, we entered the era of gemstone rings. Interestingly, many jewelry lovers today choose gems based on their history and tradition. Gemstones are gorgeous, they have been associated to a range of events and occasions. The birthstone charts assign one (or more) gems to each of the 12 months of the year. Wearing a ring with your birthstone is believed to, bring good luck and prosperity your way. We present the well known Kaisilver birthstone charts at the bottom of this web page. Kaisilver provides finely handcrafted gemstone rings in gold or sterling silver - your choice of design and gemstones. The support team at sales@kaisilver.com will be glad to help with any information that you might need.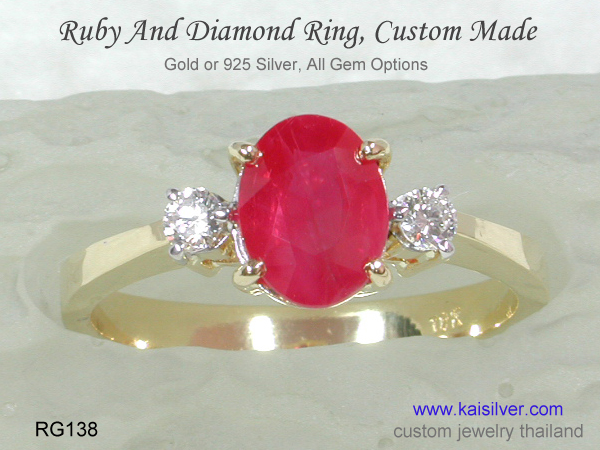 A superb collection of ruby gemstone rings, custom made in gold or 925 silver these Kaisilver rings can be ordered with gemstones of your choice. Ruby is one of the most sought after gemstones - it is rare, gorgeous and expensive. Custom made in all ring sizes ... more.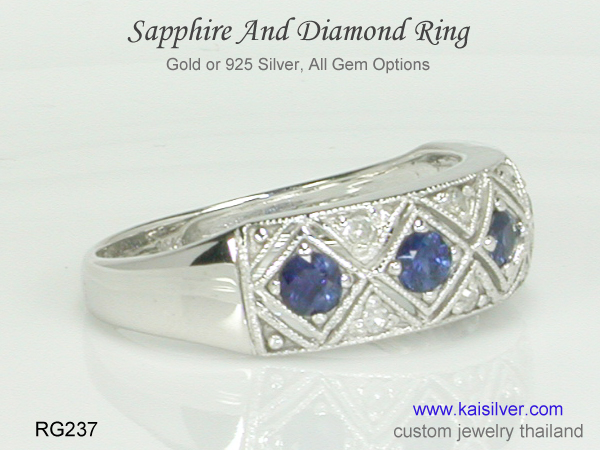 A classy collection of sapphire gemstone rings, 14k or 18k sapphire gemstone rings, you can also pick sterling silver for the metal. All sapphire rings can be ordered with white, yellow, pink or blue sapphire gemstones. Sapphire rings can be crafted with your design or ours ... more.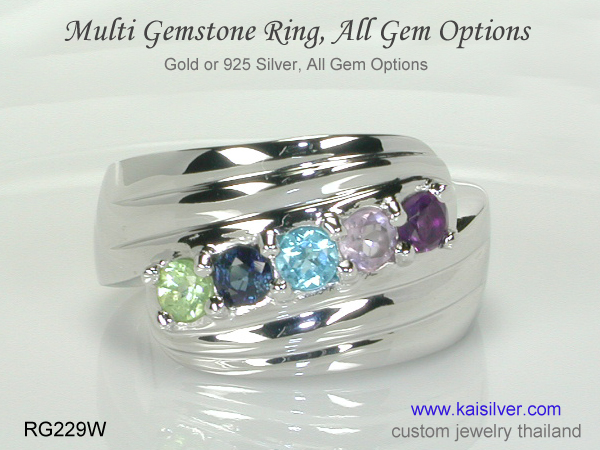 Mothers gemstone rings, all gem combinations handcrafted in Thailand. Both gold and 925 silver gemstone rings have the same superior quality standards. This multi gemstone ring is ideally ordered as a family birthstone ring - a wonderful gift for a loving mother - in all sizes ... more.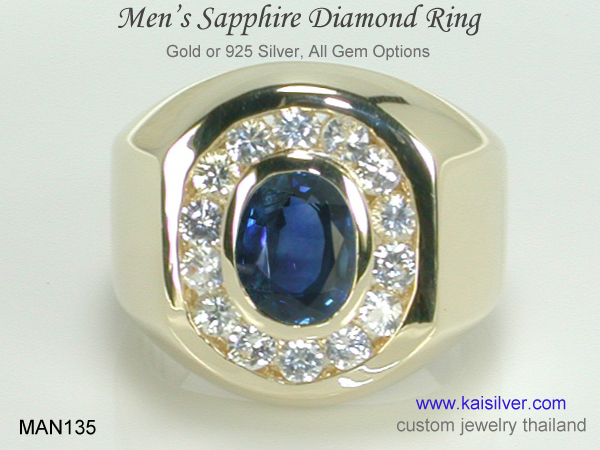 Sturdy gemstone rings for men, favorite sapphire colors for men include - white, yellow, green and blue. Kaisilver artisans in Thailand, craft gemstone rings with your choice of metal (gold or silver) and gem. Men's gem rings are crafted with a high metal weight making them durable ... more.
Men's gemstone rings are expected to have an impressive look but, long term durability is equally important. Ruby gemstone rings for men are ideally made with modestly sized rubies are big rubies are very expensive. You have an option of gold and 925 silver to choose from ... more.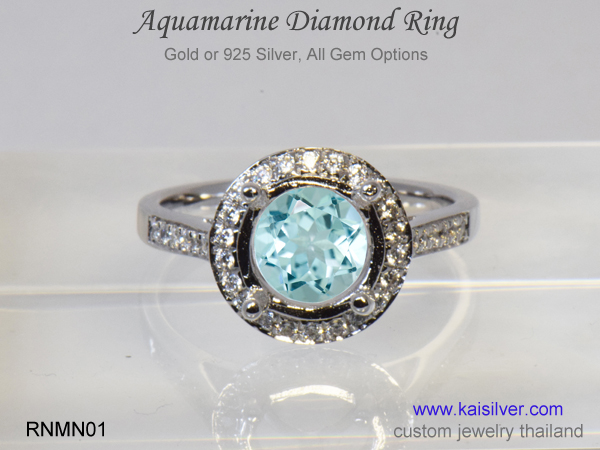 The gemstone that symbolizes harmony and togetherness - aquamarine ring. This blue gemstone ring is set with the gorgeous pastel blue aquamarine gemstone. We can craft your aquamarine ring with your design or ours. Choose from gold or silver - in all ring sizes ... more.