Lapis Lazuli Rings For Men
The recent surge in the demand for lapis lazuli rings for men might most likely be due to the increased exposure of the world to Afghanistan. Pictures of the sky high Afghan mountains and men dressed in their traditional attire, climbing those peaks are views seen on television, on the net and in the papers. Somewhere in those dangerous mountains, is where most of the world's gem quality lapis lazuli comes from. Not everyone who walks around with dynamite explosives in their pockets, want to attack the allied forces or the Afghan government. Many of these daring men risk their life in the hope of finding the sparsely scattered gemstones, in the area.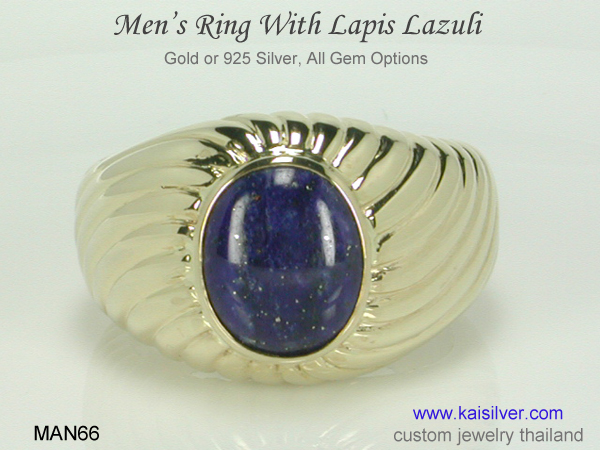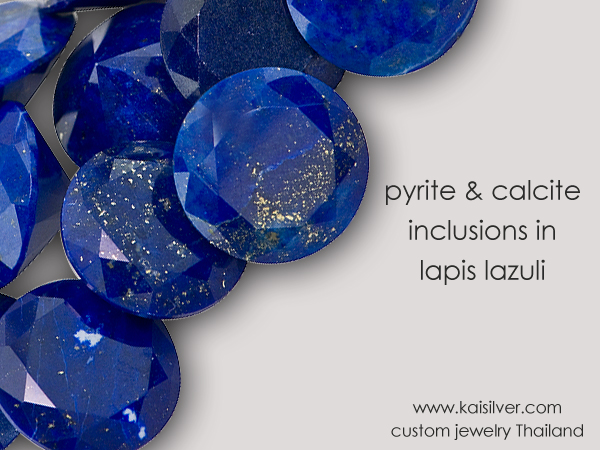 If we had to tell you the story about the Kaisilver lapis lazuli ring for men, we would need to devote a substantial part of the content to these brave Afghans. For many of them searching for the lapis embedded deep in the mountain rock is a gamble, the result could be success, failure, serious injury or even death. Armed with a small set of tools, a few dynamite sticks and lot of courage, they move from location to location, intermittently blasting the rock with dynamite - all in the hope of finding that blue gemstone. There are no rules, no laws, no medical facilities, no decent roads - there is nothing on that rugged track. Once located, blue lapis lazuli rough that weighs as much as 20 to even 100 kilos a piece, is slowly brought down the mountains. The men would need to accumulate as much as 500 to 800 kilos of rough lapis to, recover their cost and make a few dollars above that. Broken fingers, cut off legs, and life threatening falls are part of their life.
Men have a preference for blue gemstones and lapis lazuli fits that desire perfectly. The gemstone is a darker shade of blue and the story behind it's mining operation, brings up visions of toughness and resilience - qualities that have always been related to a 'real' man. Lapis lazuli is moderately priced and can be procured in fairly large sizes, this makes it suitable for gold and sterling silver lapis rings for men. In technical terms, lapis is a rock and not a mineral, it is composed of a few minerals. If you look at the MAN66 lapis ring for men shown above, you would notice some spots on the gem. Many casual gem buyers are not aware that, these features come naturally to lapis lazuli. As a rock lapis is composed mainly of calcite, pyrite and lazurite. The blue color of the gemstone is brought about by the presence of lazurite, the white patches or streaks are caused by the presence of calcite. For long it was thought that the metallic spots seen in lapis were gold, scientists later revealed that the spots were actually pyrite. Not so long ago in history, pyrite was nicknamed as 'fools' gold!
So if natural lapis lazuli almost always consists of lazurite, pyrite and calcite - what about those mens lapis rings where, you can see a dark blue lapis with no spots or streaks at all. The sellers of such lapis gems forget to tell you that, the lapis they use is first dyed to get a uniform color spread. More than 70% of the gemstone used in jewelry are dyed, to 'improve' color. At Kai Silver we are really not sure whether, this dyeing amounts to 'enhancing' or 'detracting' the natural beauty of the gemstone. The lapis that we use for your mens ring, is custom cut by our gem cutters - the rough stone can be as large as 5 to 20 kilos. This is the stone exactly, as it was brought back generally on a donkey's back from the Afghan mountains. We do not dye the stone, and do not buy ready cut lapis lazuli gems. Having said that, we can dye the lapis before we set it in your ring - you will need to specifically request for a dyed lapis gem if, that is what you need.
The effort, attention and skills that go into the Kaisilver gold or 925 silver lapis men's ring, are the same. We realize that many men prefer silver due to it's calm and confident feel and appearance. And we can craft a mens lapis ring for you, in just about any design and ring size that you prefer. While you could send us your own design images to be custom made, you could also pick any ring from our website and request for it to be crafted in gold or 925 silver with blue lapis lazuli.
If you are eager to learn more about this mens lapis ring, skip right here. Our team of experts at sales@kaisilver.com will be glad to answer any questions related to gems and jewelry that you might have, we value your comments and participation.