Custom Rings With Sapphire Gems
Let's keep the sales hype related to sapphire rings at the very end of this report. For the major part, we concentrate on issues related to custom made sapphire rings. What should you look for when ordering a gold or 925 silver made to order sapphire ring. Are you aware that selecting the right custom jewelry provider is as important or even more important, than evaluating the ring itself. How are custom sapphire gemstone rings better than ready made rings purchased off the shelf. Valuable and tips, information to equip you make the right decision.
Gold or 925 Silver: While many jewelers are stuck with the decades old theory that, good quality sapphire rings need to be crafted in gold or platinum, smart buyers have made some wise decisions in recent years. The timeless look and appeal of a quality custom 925 silver sapphire ring entices even the most, experienced gem and jewelry lover. By all means go for a custom silver ring with sapphires if that is what you like but, make sure that there is no quality compromise made just because of the metal choice. On the issue of plating sterling silver rings, you should be aware that any plating done on silver will start to wear off after a while. We would recommend that your silver sapphire gem ring be left un-plated. At Kaisilver, the same quality standards of workmanship and gemstones are maintained for gold and 925 silver jewelry. A custom gold sapphire ring can be ordered in 14k or 18k gold, 10k gold is available on request. When working on the details for a custom made gold ring, keep the gold color options in mind. White, yellow and pink are the three stable and durable gold colors available in 10k, 14k and 18k gold.
Sapphire Gemstone: Keeping this information as easy to understand and non-technical as possible, here are the essentials that you should know. Broadly, sapphires can be natural or man made, our report considers natural sapphires and you can make a special request for synthetic sapphire if that is something that interests you. Most custom sapphire rings are ordered with blue or pink sapphires but, this tough gem comes in a range of colors - white, pink, yellow, blue, green, orange, purple and color hues in between these. Most sapphires are treated in some way or the other to enhance their color and quality, there are a few prominent processes used to accomplish these objectives. The jeweler needs to explain the treatment process for the gem being used in your made to order sapphire ring. This information should be with you before you finalize the order and pay for it, the price charged should reflect the treatment applied to the gem. One treatment that you need to specifically be aware of is 'fissure filled' sapphires which are basically sapphires treated in a process that combines them with molten glass. These sapphires can look tremendous to the casual buyer but, make significant compromise in terms of hardness and durability, prices are also very much cheaper then untreated or heated sapphire gems. Since the price range of sapphires varies widely based on color, clarity and treatment, it is better to discuss details including budget for your made to order sapphire ring. If you decide to go for a gold sapphire ring, try to pick the gold color that enhances the overall beauty of the custom jewel.
Design: The true meaning of a custom sapphire ring is that, all essential features of the jewel can be chosen by you. Kaisilver can custom make a gold or silver ring with a sapphire gem in any color for you, the design can be chosen from our website or provided by you. While each one of us would pick a design that suits our style, personality and budget, there are few important considerations to keep in mind. Sapphires are expensive and get even more expensive as, the gem size moves up. Choose a design that provides a durable jewel that can be worn often and for a long time, your jewelers should be able to guide you with this. Sapphires are naturally hard and tough but, fissure filled (also known as glass filled) sapphire gems are not that sturdy.
Workmanship: Since your custom made sapphire ring is made just for you, the workmanship should be of a superior quality. Besides enhancing the beauty of a jewel, skilled craftsmanship is also necessary to deliver features like secure gem setting, elimination of crudely finished corners and edges etc. Since most of the production process at Kai Silver relies on hand skills and talent, we have attracted some of the most experienced craftsmen and artisans in Thailand. The same team works on gold and silver orders, you can therefore make your choice of metal without worrying about the quality.
Kaisilver Sapphire Rings:
Custom made in gold or sterling silver, all ring size requests can be accommodated.
Sapphire gold rings can be ordered in 14k or 18k yellow, white or rose gold.
Sterling silver sapphire rings can be plated but, no plating will last permanently.
The design for your custom sapphire ring can be yours or ours.
You can specify white, pink, yellow, green, blue, orange or purple sapphire.
Sapphire prices can vary widely, having an idea of your budget estimate would be useful.
Unless stated otherwise, all Kaisilver sapphire gemstones are heat treated.
Both gold and silver sapphire gemstone rings have good workmanship.
The gemstone quality remains the same irrespective, of the metal selected.
Kaisilver: We are the leading online custom made jewelry providers, all jewelry is custom made in gold or sterling silver. More than 7,000 gem and jewelry lovers rely on Kaisilver for their requirements. Sourcing gems directly from mining operations and major gem cutting houses, we have preferential access to more than 200 million carats of gemstones. We do not place any limitation on design or gems, few jewelry manufacturers can make this claim. We welcome your own design images and sketches to be custom made too, get in touch with our expert team at sales@kaisilver.com with any questions that you might have.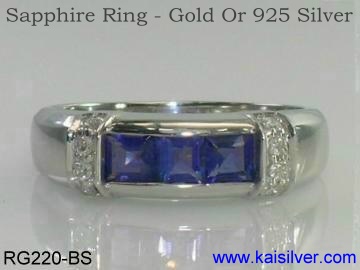 A multi gemstone sapphire ring custom made, you could in fact mix and match various gemstones in the same ring. One option would be to combine different sapphire colors in the same ring. You could also combine entirely different gems like, sapphire and aquamarine or ruby in one custom made ring. Probably consider a multi birthstone ring ... more.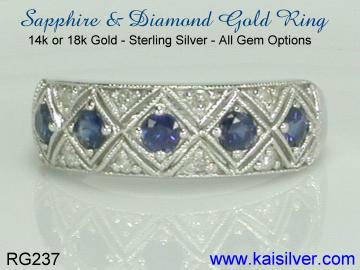 A gorgeous sapphire ring with diamonds, this custom made gold or 925 silver ring offers some interesting options. You can order this sapphire ring with a uniform or tapered band width, the gems and diamonds can go all around the ring or be restricted to the front half of the ring. The gold rings offers a selection of 3 gold colors to choose from ... more.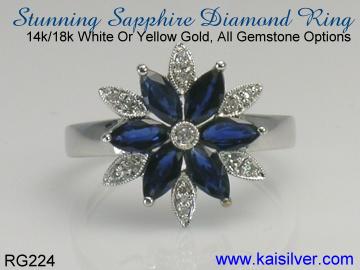 A nature based design for this custom gold or 925 silver sapphire gemstone ring. Shown here with all blue sapphires and diamonds, you could mix different sapphire colors in a single ring too. Amazing looks at a very attractive price, this sapphire gemstone ring would also make a unique engagement or wedding ring. You could also combine other gems with sapphires ... more.
The Kaisilver gems and jewelry newsletter is regarded as the most reliable and comprehensive online publication. Join our mailing list and stay updated.